Hey Terrarians, hot on the heels of our release of 1.3.4 for the PlayStation 4 and Xbox One, we have a couple of exciting pieces of news:
We've submitted a PlayStation Terraria 1.3.4 Japanese Release Candidate to Spike Chunsoft! We are excited to be able to bring 1.3.4 to Japanese Terrarians – hopefully you'll be hearing more news about that soon.
We're currently working on integrating 1.3.5 to our development branch for QA testing and eventual release! We're really excited to be on the road to content parity with PC (so close!), and appreciate all of your support along the way. We're not in the realm of discussing release timing yet, as we're just getting started, but stay tuned here for news.
For now, here is a sneak peek at some of the fancy Crystal building materials and Furniture coming in 1.3.5!
Everyone here at DR Studios want to wish Terrarians everywhere a very Happy Holidays!
We've had a busy month getting a good chunk of controller support working, but there is still a lot of testing and changes/iterations needed to get controller gameplay feeling like we want it, as well as working on the highly-requested virtual controls customization options – enabling everyone to play the way they want to, tailored to their preferences.
Getting Controller feeling right goes well beyond just mapping touch controls to a gamepad – it involves UI and much, much more. You might even see some of that above in our festive controller-play scene above.
Oh, and we were able to bring Terraria Mobile 1.3 to Japan!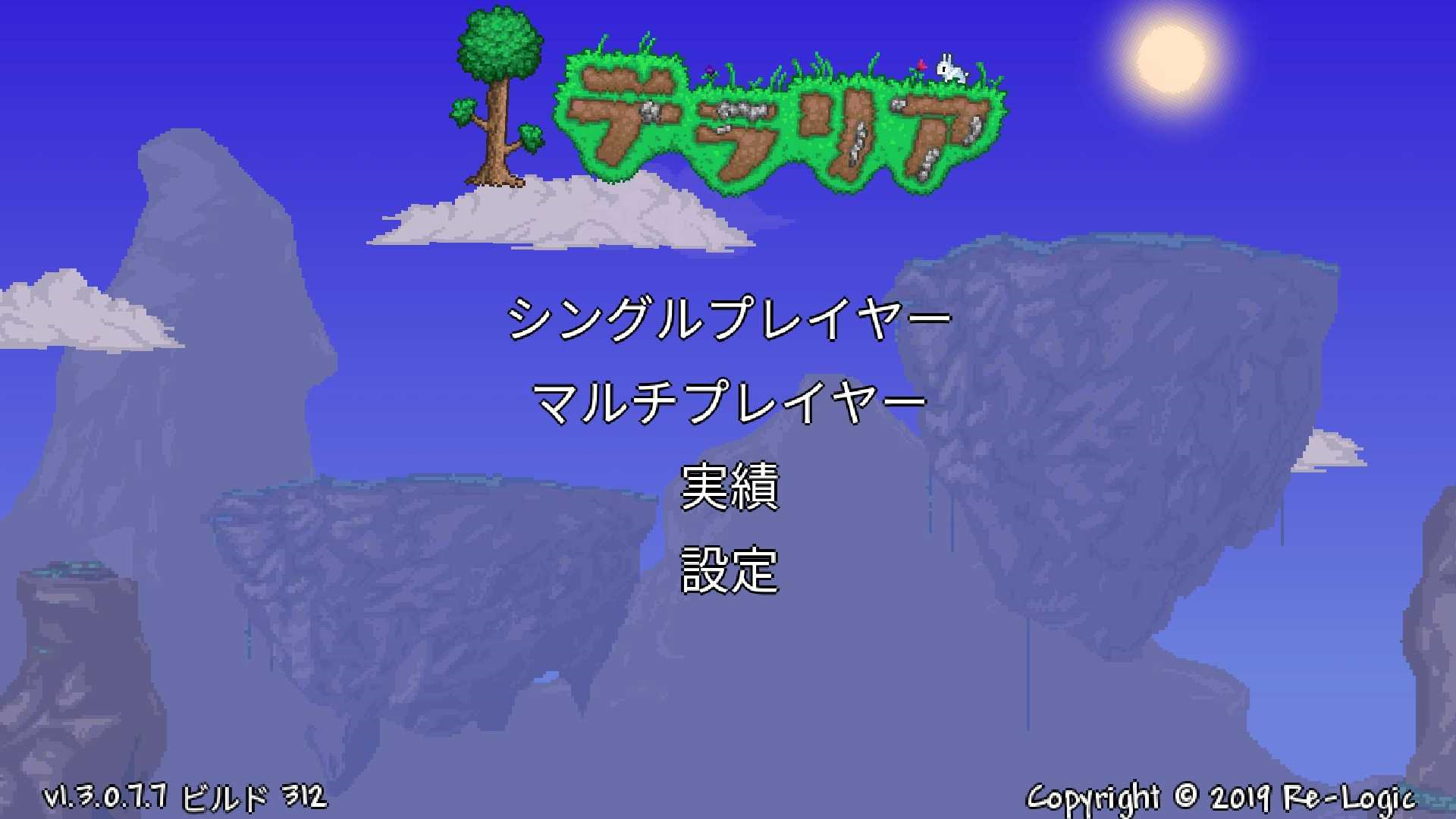 As a lot of the work thus far is backend/systems-based at this point, we do not have any big previews to show this month, but we wanted to thank the community for what has been a great year working with Re-Logic to bring you the 1.3 mobile update and beyond! We are beyond excited for what we have in store for you in 2020!
With Switch 1.3.1 out in players' hands now, we have been actively monitoring for any new bugs/issues (keep those reports coming in!) as we start planning and work on the next updates for Terraria on Nintendo Switch.
Hopefully, we can get Switch up to parity with Console in the near future as well as finally ironing out the issues that have kept split screen from being ready thus far. Beyond that core work, we once again want to share some news for our fans in Japan and Korea:
Our 1.3.1 Japanese translation is set to release on the 19th! Woo! We're very excited for fans of Terraria in Japan to get a chance to crack into this version of the game!​

Terraria on Switch is coming to Korea! We're currently in the process of kicking off our Korean translation work, and hope to have some progress to show early next year!​
In general, it's been a big year for us! We launched 1.3.1.1 for the PS4/X1 then skyrocketed all the way up to 1.3.4, we launched Nintendo Switch and brought that up to 1.3.1.1, we've had the chance to help Terraria get launched and updated in additional territories.
The whole team at Pipeworks has had a ton of fun working on this game, and we're looking forward to another great year with you all!
Happy Holidays everyone!
We hope your preparations for the Holidays are going well – and that you have found just the right gifts for your friends and family. Of course, if you need any last minute ideas for the Terrarian in your life, you can always check out our Amazon Storefront.
Also, we wanted to share that Terraria, Terraria Four Packs, and the Terraria Official Soundtrack will be 50% off during the Steam Winter Sale! To pick up a copy for yourself or a friend (sounds like another fantastic gift idea!), click the banner below to visit our Steam store page! The sale will run from December 19th until January 2, 2020.
​
Moving back into development news, the team has been moving full speed ahead on a suite of ideas over the past month as we look to both close out 2019 on a strong note and build an even better foundation for hitting the ground running in 2020 as we work towards finishing out Journey's End!
With that in mind, we had a couple of images that we wanted to share with you – a quick couple of gif(ts) from the team, if you will!In case you missed it on the Yogscast Jingle Jam, we shared a couple of animations that clearly show that yes, in Journey's End, you will at long last be able to pet the dog (or cat) in Terraria!
​We hope you find these to be fun and exciting – sometimes, after all, its the little things that can really bring the world of Terraria to life. As we enter the Holidays ourselves, we wanted to be sure to thank each and every one of you for your steadfast support over this year.
Across all platforms, so much has been accomplished – from the launch of Switch and Mobile 1.3 to Consoles nearing parity with PC and a TON of really, really cool stuff that has been done on Journey's End (with more to come), 2019 was indeed a fantastic year to be a Terrarian… with 2020 set up to be potentially even bigger.
We hope that you enjoy time with family and friends over the next few weeks, and know that we appreciate each and every one of you.
Cheers!
Happy Holidays Terrarians!
2019 was an incredible year for the Terraria community! There were far too many memorable things that happened this year to reasonably cover them all in this single post. However, we wanted to go over some remarkable moments from 2019 and end the final State of the Game for the year with an exciting community announcement.
We saw Terraria make its way to Nintendo Switch – and then, at long last, we saw the release of the 1.3 mobile update in 2019. Over 60k members of the Terraria community registered to participate in the Beta! With so much community hype for the update, we felt it would be fun to announce the mobile release date of August 27 via the community video titled "An Enigma".
The excitement revolving around the mobile update set off a chain reaction resulting in exponential community growth across the Terraria community including both mobile and non-mobile related platforms.
After years of mystery and intrigue, on the 8th Terraria anniversary we revealed the official Terraria lore. The community excitement from the live lore reveal was so overwhelming that the official Terraria website and Discord server crashed from over-activity.
You can read the full lore here: Terraria Community Forums: Terraria's 8th Anniversary Lore Event
Along with fun online activities we also began hosting live gatherings with our community. At E3 this year we organized a Terraria squad who roamed the convention together and partied in LA during the evenings.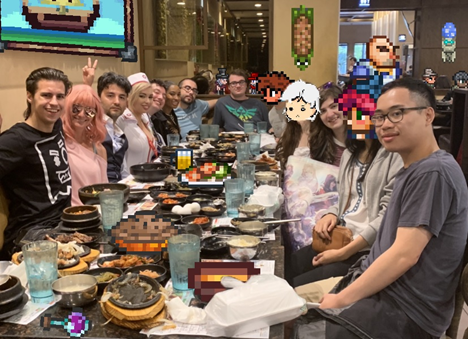 We then flew to Europe where we organized a party crew of Terrarians, including ChippyGaming, Pedguin, and PythonGB, who celebrated and met with some of the developers behind Terraria.
We are so thankful for all the entertaining, informative, and creative content creators who contributed to the Terraria community in 2019. While there are far too many to name them all here, we would like to give shoutouts to the influencers who received over 150,000 views on a YouTube video or streamed over 200 hours:
PewDiePie, ChippyGaming, Pedguin, PythonGB, JzBoy, Antrex, HappyDays, Edward, Khaios, GameRaiders101, Jetstreme, Tea, Adam Millard, James Bucket, MappyGaming, Socksfor1, MisterCarlos, Cuse, RTGame, NRLP, Hactos, AP STP, Turquoise, Hectique, Молвин, Isahooten, Slmccl, Oscurlod, ParashockX,GrobeMan Guides & Gameplay, traves, Call Me Kevin, OVA Let's Play, WorstPremadeEver, ElRichMC, CrabBar, DM DOKURO, TheGamerMaldito, TrixyBlox, DurranSD, TheCapo, Dacktem, Badger, HectiqueX, DeViLSiNeD, vetallvsgame, Rockstomb, BewyZero, TildeShambles, 여비성 (yorbos), RyuQuezacotl, sashex1, Smichman123, KayRaid, ursagames, natsuki_snow, DemonicGamer123, CoronaKing9, Phyrexxian, Skean, Sugar54000, EvoluindocomRidokuto, YanFin, Phillyduck, PsycoStea, Tic_Tox, alex68lowskill, BlayZGames, ZeroMeaning, 노비와선비 (nobisunbi), Denferok, InterruptedGameDad, Narzick, TheGamingDwiz, SSBane, Yatsuzume, ReedemtheD3ad!, and CallMeCarson.
Many Terraria community achievements in 2019 were truly remarkable. Terraria became only the 2nd game in Steam history to have over 250k user reviews while simultaneously maintaining overwhelming positive status.
The r/terraria community has grown exponentially to 322k members. There are over 350k registered Terraria Wiki members on Gamepedia. The official Terraria Xbox hub averages over 4.5 million unique visits per month.
Our last Terraria PlayStation event had over 6k registered participants. Terraria Nintendo Switch News articles average over 300k downloads with over 96% upvote approval. Terraria is almost to 1 million followers on Twitch.
Terraria was consistently ranked the #1 Adventure game on IOS and Android. And finally, Terraria had no official Discord server at the start of 2019, but now we have the 8th largest Discord server in the world, peaking at over 60k simultaneous online users.
A massive shoutout to all of our community members who connect with us on the official forums, Facebook, Twitter, Instagram, and Discord. These platforms remain our primary platforms for connecting with our community.
Our achievements would be impossible without the contributions from passionate moderators and admins in our various communities. A massive shoutout to those who help make the Terraria community a truly wonderful place we all enjoy:
Terraria Community Forums: Tunnel King, Aurora3500, Charmander27, Criddle, Darthmorf, Doylee, ExoticCharm, Kazzymodus, Kelp, Matsu, Nike Leon, and Unit One.
Terraria Discord Server: dunkasaur#0001, demize#0021, pazz#0199, Ourself#0001, DisturbedTK#0001, myungceline
#1111, Avery#6969, Overg#6215, Squid#0360, Spooklies#0199, Cytherean#3865, Ian#6463, Slaxer#0001, Derock#1999, Criddle#9316, XeeDren#3850, Hifume#5050, Davyous#0222, Blanc#6336, Uncle Jimbo#0001, Ajax#3930, isra#3333, quake#1337, Saint2th#5824, Lant#5135, Jemmysponz#1895, Dryad#0001, Pemoinop#3249, MadMan2021#2021, Nurtemms#9152, Saply#7011, Ditto#6915, haley2
#8008, Ammolite#9001, Conk Johnsson#0120, FindingEDEN#0011, Deadly Dragoon
#1216 , f4ith#0199, Midnaait#3169, Clearwater#5514, Akuma#0666, and Shinx#0258
r/terraria: DisturbedTK, criddle98, dunkasaur, Ourselfian, notdemize, Overg_, IanTheFox, SirGrodus, Dyholm796, Helljumperz64, Edcellwarrior, and Rexamicum
Terraria Community Team: darthmorf#5524, Srsonic1#0538, TheTGU#6529, Uncle Danny#7694, MadMan2021#2021, Nurtemms#9152, Wing/¯3#6664, Anarott#0001, CrabBar#6873, G.E.G.M#1998, SereK#0142, and Spider#9433

Very exciting things are coming for Terraria and the Terraria community in 2020. We truly believe the 1.4 Journey's End update will be the greatest yet. To help ensure that 2020 is an epic year, we will begin hosting an official Terraria weekly community stream starting January 10th at 1:00PM PST.
In this stream we will be giving away great and limited Terraria swag, reviewing Terraria builds, memes, and popular influencer content, cover game updates, official events, community happenings, and so much more. We will post the full stream details, including the live link, in the first week of January.
The stream will take place on Twitch. We are going to be giving away lots of exclusive Terraria merchandise each stream so be ready!
Thank you to everyone who works to make this community possible especially our Terraria family at Re-Logic, 505 Games, Pipeworks Studios, and DR Studios.
Best of luck to the Terraria community in 2020!
​